is a software component, add-on for ABAP Web Application Server systems, realized according to the SOA methodology, using only SAP standard technologies, fully integrated with SAP Netweaver technology.
It is a Business Activity Processor which is responsible for the management (execution, monitoring, managing, security, reusing) of business activities to be carried out on back-end SAP systems (ECC, R/3, etc.), of an interfacing system, a composite application or business flow.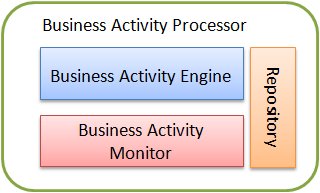 It is composed of:
Business Activity Engine
It is a suite that manages the on-line execution of the business activities (splitting, parallel processing, pre and post processing, processing, automatic reprocessing, integrity control, line control etc.) by doing the reclassification of calls and messages in independent business flows that can be managed separately.
Business Activity Monitor
It acknowledges the events produced during the business activity processing showing them to the user in a comprehensible way, in a functional language (not a technical one) and in the same logon language.
It is a dashboard, implemented by WEB technology, which allows the display of the processing logs of the business activities on the basis of reception and transmission of the messages. It allows the (SAP side) execution control of the business flows assuring the serialization of the component activities and checking the completeness of the execution.
It is active since it allows to carry out the reprocessing (both immediate and scheduled) of the messages, the modification of their content, the control of the in line connections, etc.
It can be fully configured by adding keys for the execution of further special user custom or SAP standard activities.